Kem Beach: Like heaven on earth
What makes Phu Quoc so special? Located off the coast of southern Vietnam in the Gulf of Thailand, this tropical island has a unique ecosystem composed of primeval forest, a spectacular 150-km coastline and a thriving coral reef. In recent years, the island has become one of the world's most talked about destinations for beach lovers and it's not hard to see why.
All around the island you will find pristine beaches with picture-perfect aesthetics. Indeed, once you set foot on Kem Beach you might be forgiven for thinking you have found heaven on earth. Swaying coconut trees, gleaming white sand, and inviting turquoise waters in a secluded bay. It's everything a beach lover dreams about!

Kem Beach with the creamy white sand
Canada's Online Travel Agency, Flight Network, even named Kem Beach as one of the 50 most beautiful beaches in the world in 2018. It's an ideal spot for a tranquil getaway. A place where you can forget about your worries and truly rejuvenate your mind, body, and soul. It's also home to some world class resorts run by some of the biggest brands in hospitality, namely JW Marriott International, Accor, and Rosewood Hotel Group.
When a famous Indian billionaire wanted to choose a glamorous destination for his week-long wedding party, he couldn't resist the sumptuous services and setting on offer at JW Marriott Phu Quoc Emerald Bay Resort & Spa. Described as an architectural masterpiece, this enchanting resort marked a significant milestone for Kem Beach's status on the luxury travel map after opening in 2016.
Designed by the award-winning architect Bill Bensley, this superlative accommodation was named the "World's Leading Luxury Themed Resort" at the World Travel Awards, and also one of the 'Top 100 Best Resorts in the World' by Travel + Leisure. It is truly one of the region's most outstanding resorts, helping the island to rival the likes of Bali, the Maldives and Phuket as a leading destination for luxury tourism.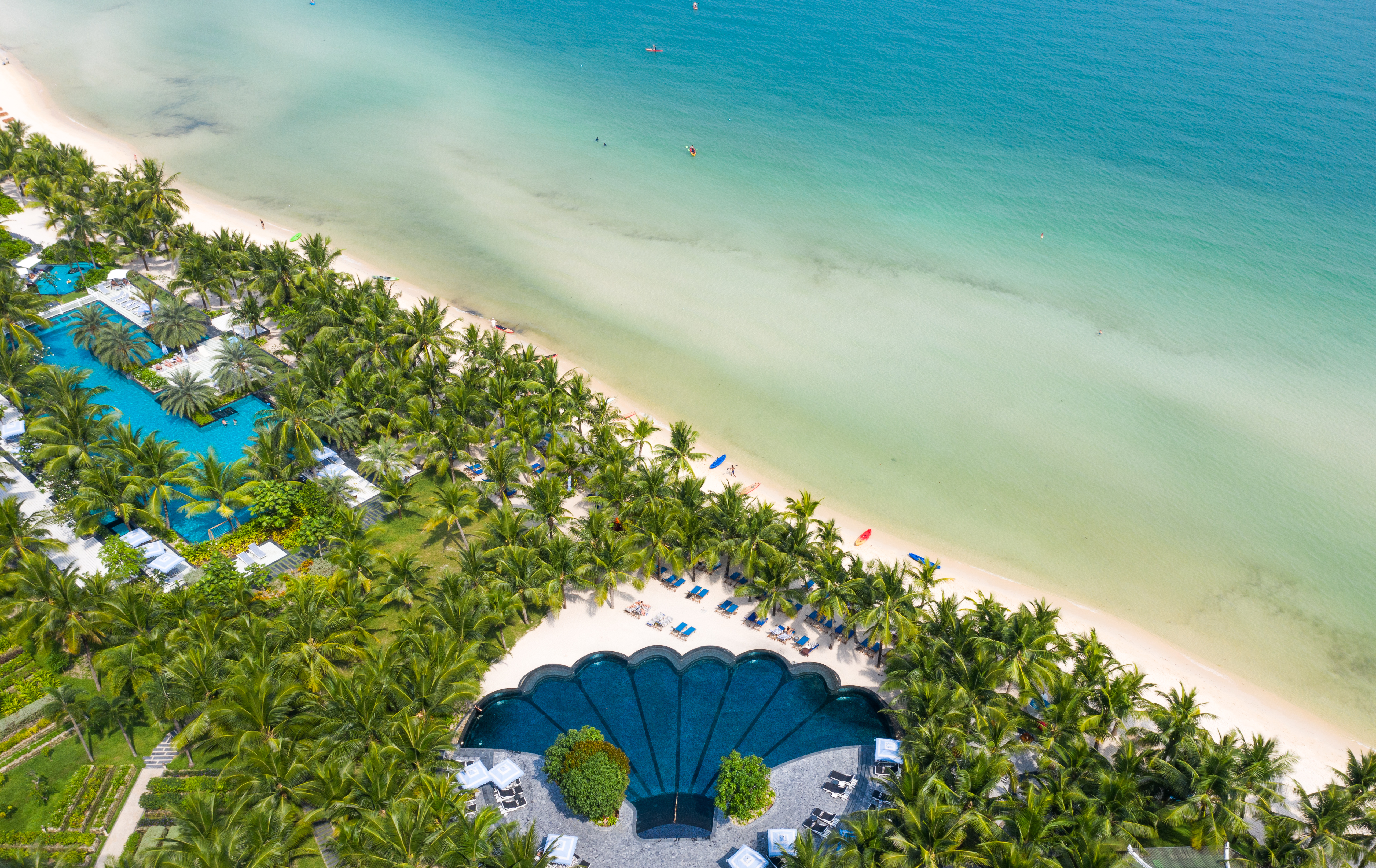 The Shell Pool of JW Marriott Phu Quoc Emerald Bay Resort & Spa
Kem Beach has also emerged as a leading destination for families with the presence of Premier Residences Phu Quoc Emerald Bay. This luxury property was also recognized at the World Travel Awards (WTA) as 'Asia's Leading Hotel Residences'
Last but not least, for a luxurious and indulgent stay, New World Phu Quoc Resort is an idyllic haven where guests can fully immerse themselves in the natural beauty and local culture of the island. But whichever resort you choose, the beauty of Kem Beach will surely take your breath away.
Sao Beach – Total tranquility
Stretching for more than 7 km, Sao Beach possesses a pristine beauty with a backdrop of lush green forests, smooth white sands along the shoreline and azure waters. Located in an area that is sheltered from the southwestern winds, the sea at Sao Beach is always calm. The seabed is also quite shallow here, making it the ideal beach for families.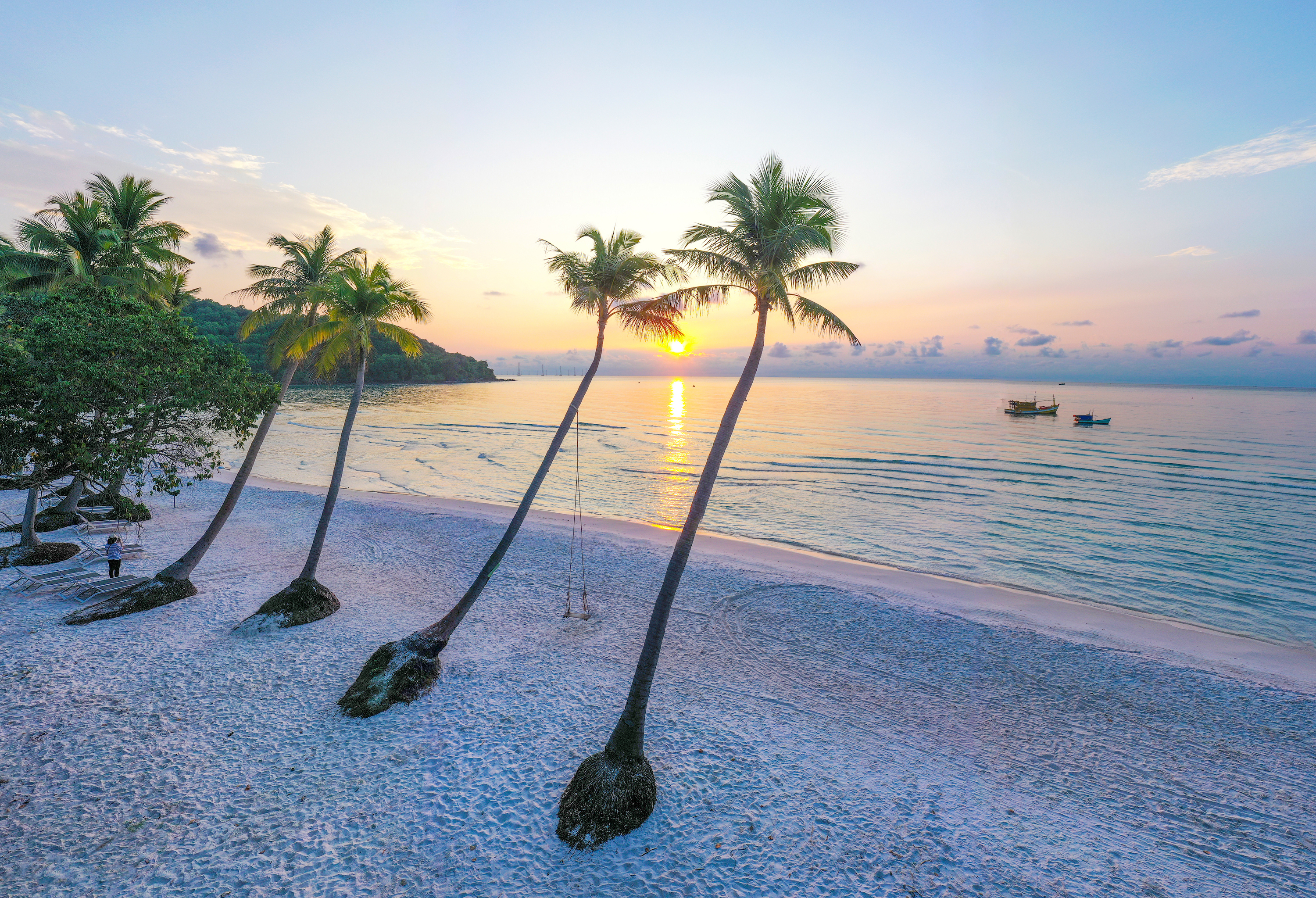 The beauty of Sao Beach
In 2015, one of the world's most prestigious travel magazines, CN Traveler listed Sao Beach as one of the 10 most pristine and tranquil beaches in the world, alongside beach destinations, such as Fiji and the Maldives. In late 2021, the French newspaper Le Figaro described visiting Sao Beach as one of 'seven bucket-list experiences' for anyone travelling to Vietnam.
Adding to its charm, Sao Beach also offers visitors a variety of exciting water sports and fun activities. You will discover the meaning of pure bliss when snorkelling through vibrant coral reefs, kayaking across the tranquil waters, or surfing on a bodyboard. For those seeking pure relaxation, you can enjoy a refreshing swim in the cool waters then retreat to shore for a delicious coconut cocktail.
If you are a seafood lover, you are in for a treat as you can feast on delicious dishes at local restaurants operating on the beach. Crab, squid, fish, prawns, scallops – everything you eat will be super fresh and super delicious!
Hon Thom – Golden Beaches
Known as the 'Island of Joy', Hon Thom has become one of the most talked about destinations amongst savvy international travelers. With a spectacular blend of coastal and forest ecosystems, Hon Thom is a truly unique tropical island. Covering an area of 5,710 square meters, some say that the island is the most perfectly cut gemstone in the Phu Quoc archipelago.
On Hon Thom you can find a number of breathtaking beaches such as Bai Nom, Bai Chuong, Bai Trao, and Bai Bo Tay, all of which are idyllic spots for beach lovers. If you want to inject your beach holiday with a little excitement, you will also have plenty of options on Hon Thom. There are thrilling water sports and wonderful trails for treks. You can also visit Sun World Hon Thom, which you can access by riding in the world's longest three-rope cable car, and discover Asia's largest water park, Aquatopia which boasts 21 water slides, and Exotica Village which features a host of entertaining rides, games and activities.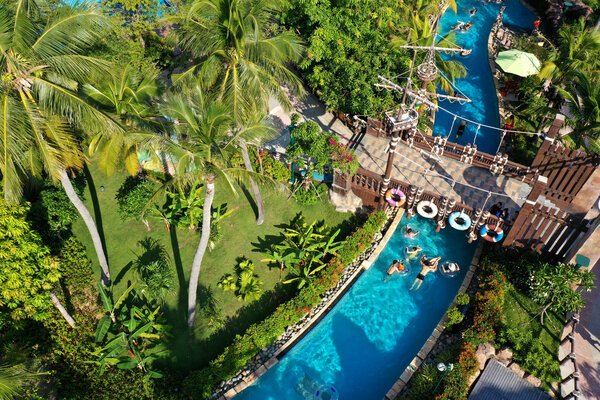 Aquatopia - Asia's Leading Water Park by World Travel Awards 2023
One of the most exhilarating experiences a visitor can enjoy on Hon Thom island is undoubtedly scuba diving. Hon Thom is home to distinct and diverse coral formations, unlike any other marine area, with 116 coral species, some dating back millions of years, and 22 species of fish. You will never forget the feeling when you plunge into the water and see this unique, underwater world. After you go scuba-diving, you can relax on a beach of your choice and watch the sun set on paradise.