The smart solution lighting system on Nhat Tan bridge displays a variety of artistically vivid undulating designs nightly. Many people come to see the bridge turning into an illuminated work of art with over 16 million different colors. "When seeing the bridge brightened by sparkling lights, I get a wonderful feeling inside" said Le Anh Tuan, who lives in Nhat Tan, Hanoi. He often takes his wife and his grandchildren to the bridge on weekends.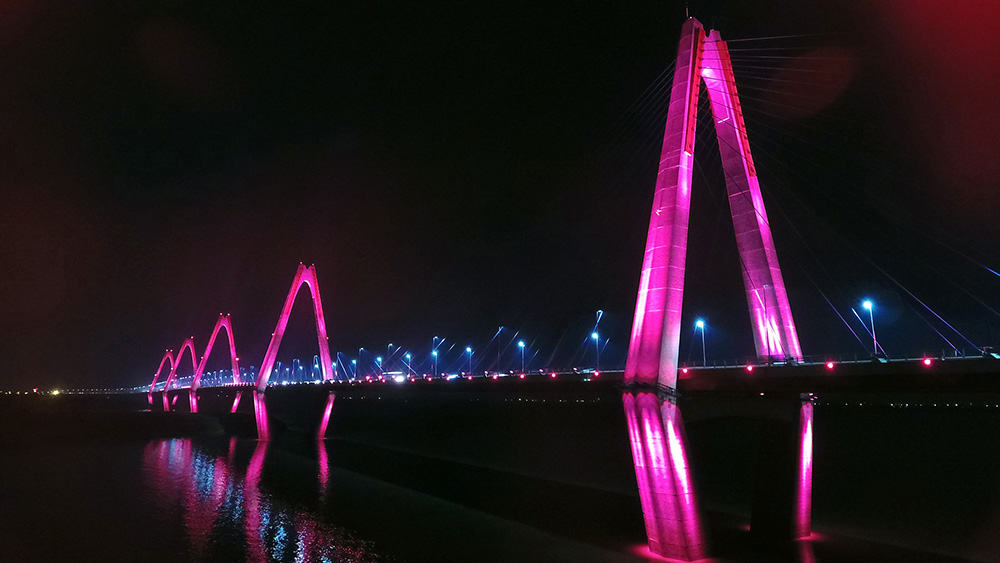 Nhat Tan Bridge crossing the Red River, inaugurated in early 2015 with a length of 3.7 km, 33.2 m wide, 8 lanes, and 5 towers symbolizes the five ancient gates of Hanoi. This is one of the few continuous cable stayed bridges in the world, and is the largest cable-stayed bridge in Vietnam. Nhat Tan Bridge plays an important part of Hanoi's transport system which connects city central and Noi Bai International Airport. The decoration light project will transform Nhat Tan Bridge into an architectural landmark in the north of the city. Having the trust of Hanoi officials, Sun Group sponsored the aesthetic LED lighting system on Nhat Tan Bridge. The illumination project is installed by world-renowned brand Philips Lighting.
The project completed on February 17, (remove comma) uses 3755 meters of electric cable and 1280 high power LEDs. The five majestic spans of Nhat Tan bridge, along with the cables that run high above are illuminated by the new architectural lighting. Compared to conventional lighting, (remove comma) the new long-life LED system provides energy savings, as well as saving on operation and maintenance costs.
This system with its smart technology not only provides light for traffic vehicles but can also easily change colors by theme or for weather conditions. In addition, this symbolic quality is further enhanced by Philips' new lighting system, which can illuminate the bridge in special colors to commemorate events and holidays.
Making a vivid future
Sun group will not only invest in the lighting system of Nhat Tan bridge, but Will also make our capital city richer and more beautiful with many meaningful community projects such as the Old Quarter Walking Street and the aesthetic lighting system around Hoan Kiem Lake.
Mr. Tran Minh Son, Vice president of the Sun Group Corporation, (remove comma) said: "The aesthetic LED lighting system on Nhat Tan Bridge paved a way for a series of major socialization projects in cooperation between Sun Group and Philips Lighting in installing smart solution lighting systems for major projects in Hanoi. We hope the lighting projects will contribute to the development of a modern and dynamic city and promote the tourism industry"
Sun group was established in 2007 and operates in the field of hospitality, real estate development and construction. The group develops many international standardized projects from the north to the south of Vietnam. Sun Group is making its first investment in Hanoi with Kim Quy Park, which is worth VND4.6 trillion in its first phase.
Sun Group always considers human values, most specially to ensure they bring far-reaching and positive benefit to the local community. While many social activities were meaningful, Sun Group joined with Philips Lighting to install the lighting system for Bai Chay Bridge in Ha Long City.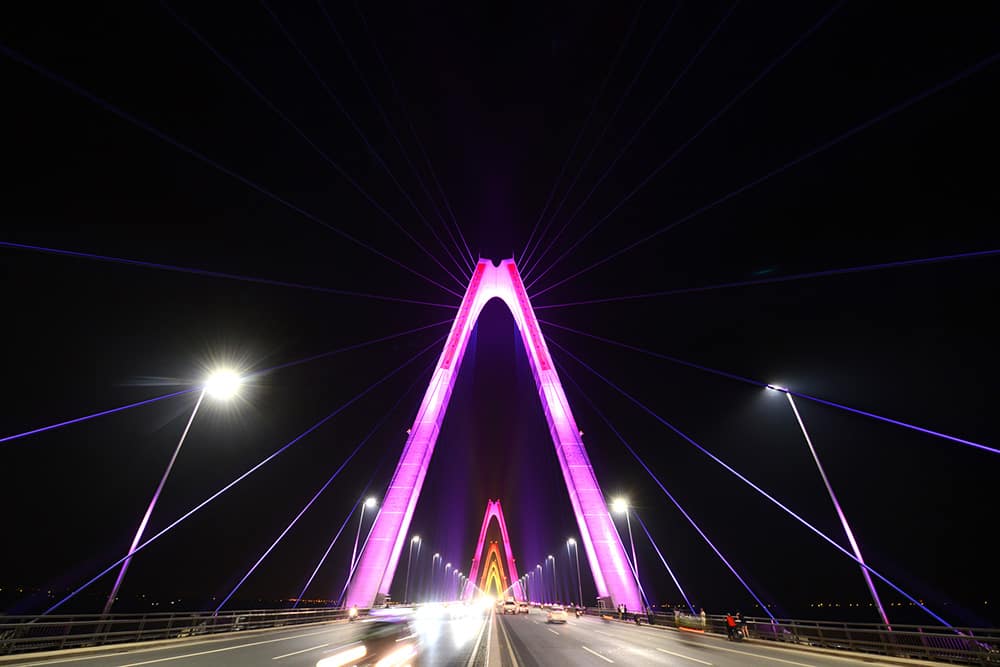 Nhat Tan bridge has become a symbolic feature of the capital city in the northern gateway after the lighting system came into operation. After Nhat Tan Bridge, Sun Group will continue to cooperate with many famous partners in developing lighting systems for other major projects of Ha Noi, including the aesthetic lighting system in the Old Quarter Walking Street and Hoan Kiem Lake. These community projects will help to (delete to) develop Hanoi into a capital city of green space, civilization and modernization by implementing a project "Master plan of Hanoi by 2030 and a vision to 2050".